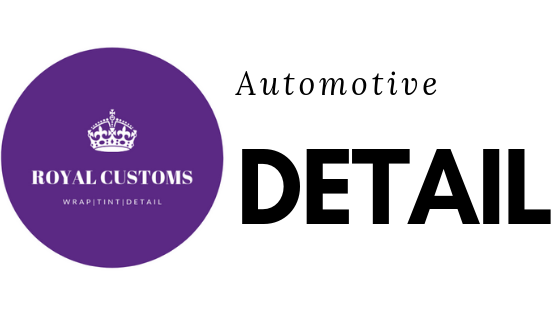 Car Detailing in Stratford
If you were to ask a friend or someone in your family, "Where can I get my car detailed in Stratford?", there's a pretty good chance they'd suggest Royal Customs. When it comes to car detailing, we're known around town for providing amazing value and meticulous results. And for one reason – we love cars!
Every vehicle that comes into the shop for detailing is treated as if it belonged to us. We never cut corners. 
We detail cars, trucks and SUVs with an unmatched level of passion that is clearly reflected in our results. It doesn't matter to us whether we are detailing a show car or a family van that's a little worse for wear. Either way, we'll go above and beyond to provide a level of clean that you'll continue to FEEL inside your vehicle long after your appointment has passed. 
There are a variety of detail packages you can choose from depending on if you want a basic but professional clean at a fair price or if you want the best car detail in Stratford that money can buy!
When we detail your vehicle, we'll use professional grade cleaning solutions and materials that are powerful yet extremely safe for you and your vehicle. You'll be delighted with how clean your car looks and feels.
We offer both interior and exterior car detailing for Stratford and surrounding areas. Busy schedule? No problem! We offer pick up and drop off services so you can even have your vehicle detailed while you're at work! 
All of our detail packages are listed below. No matter which package you choose, you can feel confident that you'll be surprised with how much value you get. If you have any special requests or specific needs, please give us a call!
Interior Car Detail Packages
Basic Interior Car Detail Package – Sedans/Coupes: $74.99 Trucks/Vans/SUVs: $99.99
– Quick interior panel wipedown
– Clean interior windows
– Quick vacuum of seats and carpets (does not include trunk/hatch, no removal of excessive pet hair or ingrained dirt)
Express Interior Car Detail Package – Sedans/Coupes: $124.99 Trucks/Vans/SUVs: $149.99
Includes everything in Basic plus;
-Clean and dress rubber mats
– More thorough cleaning of interior panels
– Vacuum of full vehicle (no excessive pet hair or ingrained dirt removal)
Premium Interior Car Detail Package – Sedans/Coupes: $199.99 Trucks/Vans/SUVs: $224.99
Includes everything in Express plus;
– Very thorough vacuum of full vehicle
– Carpet shampoo
-Leather condition and/or spot clean upholstery seats
-Door jamb cleaning
Ultimate Interior Car Detail Package – Sedans/Coupes: $249.99 Trucks/Vans/SUVs: $274.99
Includes everything in Premium plus;
– Very thorough cleaning of interior including hard to reach areas and small crevices
– Stain guard on all fabric surfaces
Exterior & Interior Car Detail Packages
Basic Car Detail Package – Sedans/Coupes: $124.99 Trucks/Vans/SUVs: $149.99
– Meticulous hand wash and dry
– Streak free clean of exterior and interior windows
– vacuum seats and carpets (does not include trunk/hatch, no removal of excessive pet hair or ingrained dirt)
– interior panels cleaned
– Rubber mats cleaned and dressed
Express Car Detail Package – Sedans/Coupes: $174.99 Trucks/Vans/SUVs: $199.99
Includes everything in Basic plus;
– Rim cleaning
– Clean and dress tires
– More thorough cleaning of interior panels
– Vacuum of full vehicle (no excessive pet hair or ingrained dirt removal)
Premium Car Detail Package – Sedans/Coupes: $274.99 Trucks/Vans/SUVs: $299.99
Includes everything in Express plus;
– Very thorough vacuum of full vehicle
– Carpet shampoo
-Leather condition and/or spot clean upholstery seats
-Door jamb cleaning
Ultimate Car Detail Package – Sedans/Coupes: $349.99 Trucks/Vans/SUVs: $374.99
Includes everything in Premium plus;
– Protection on exterior plastic panels
– 3 month ceramic spray sealant
– Very thorough cleaning of interior including hard to reach areas and small crevices
– Stain guard on all fabric surfaces
Exterior and Interior Car Detailing Add-Ons
3 month ceramic spray sealant: $39.99
Salt stain removal: $29.99
Door jamb cleaning: $29.99
Car Detailing Stratford
Check out the entire range of auto detail services we offer (pricing included)